Quick Release Follow Focus in 10 minutes – DIY
Quick Release Follow Focus in 10 minutes – DIY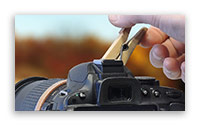 We make а Quick Release Follow Focus for our beloved DSLR camera.
Follow Focus is called a device that allows you to quickly change the focusing distance when moving an object or camera during video shooting. Although, with the same success, you can use this gadget not only to control the focus, but also the DSLR zoom of the camera.
I hope that this accessory will allow you to implement various camera motion patterns, such as Track (Crab), Follow, Zoom, Dolly Zoom, etc.
This video shows the process of making a gadget
Related topics